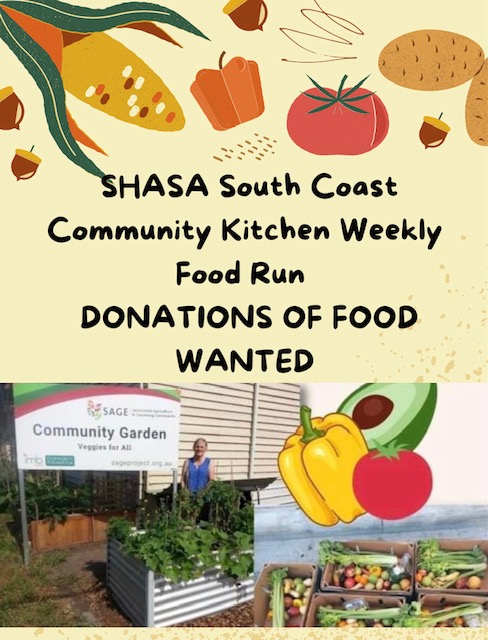 There are a number of initiatives to increase the production and supply of fresh food and meals for those most in need in our community.
Free Healthy Meals
The Anglican Church's Red Door Cafe (Page St, Moruya) is currently providing 30 sit down and take away meals every Tuesday from 12 noon to 1.30pm. 
Monty's Place, Uniting Church Hall, next to the water tower in Narooma provide 120 take away meals every Wednesday from 12 noon to 1.30 pm.
South Coast Community Kitchen is providing 30 take away meals to those in need on Fridays.  Contact Sarah O'Riley through their Facebook page.
Achievements
SHASA with a Foundation for Rural, Regional and Renewal grant, installed 2 rainwater tanks, plumbing and an orchard at the Anglican Parish, Moruya.
Over 100 water/energy efficient shower heads were distributed at SHASA market stalls. Contact us if you would like one too.
SHASA in partnership with SAGE have run Veggie for All workshops and installed 200 veggie beds across the Eurobodalla with generous funding from the IMB Community Foundation. The 2020 program has been dedicated to people who have lost their homes during the 2019/20 bushfires.
Get involved
Want to Grow your own vegetables in a community garden setting?
You are welcome to grow your own vegetables at the Moruya Community Garden, Anglican Parish, behind the Red Door Cafe. The garden consists of 14 wicking beds. If interested, please contact Kathryn Maxwell on 0467 558645.