Rob and Suzanne's story
Our solar system, purchased through the SHASA bulk buy, was installed by MESA (Micro Energy Systems Australia ) on 3rd January 2018 . The installation was efficient, fast and friendly.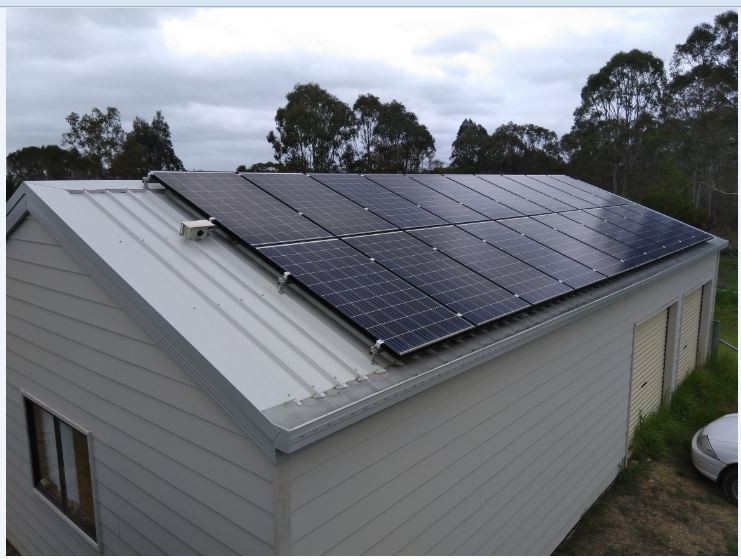 Our system consists of 20 Tindo Kara 275 watt panels and a Solax SKTL500-E hybrid grid inverter. I chose Tindo Karra panels as they are Australian made and were not a large cost penalty. The hybrid inverter gives us the option to easily add a battery in future. Our panels are installed on our garage roof which slopes at 22 degrees and is facing 25 degrees west of north. This orientation , while not the optimal north facing , has performed very well . Output is a bit slow starting in the morning but captures the sun until late in the afternoon and with good daily production.
Soon after installation I connected the inverter to our home wifi and registered the inverter on the Solax web site . The inverter then uploaded solar output data to the Solax web site which collated the solar production. The data could then be viewed with a web browser or a phone app. While this monitoring is very useful I wanted to monitor our power consumption as well as the solar production. After some research I purchased and installed an Open Energy Monitor I chose this monitor as it is open source which gives me the ability to tweak the software to suit my needs. The monitor is mounted on the switchboard and collects house consumption , solar generation, import and export data. It also collects information from the smart meter. The monitor is connected by wired ethernet to my house network and internet which allows me to upload data to PVOutput.org which saves, collates and displays the data which can be viewed on a web browser or phone app in various formats.
We are able to maximise our energy use during the day which means we are using our solar power rather than buying electricity from the grid, reducing our bill dramatically . Last quarter we imported 295 kwh but exported 1701 kwh which resulted in a bill of $26.58. Prior to our solar installation our bills were up around $400/quarter so we are achieving savings of approximately $1000 per annum which is a good return on our investment, makes significant savings to our living cost and insulates us against electricity price rises for the 20 year life of the panels. A major motivation for us was, for every kwh of energy we produce, less carbon dioxide is added to the atmosphere which improves our prospects for a sustainable future for us all.
Rob and Suzanne Shorrock 17/02/2020