Reprinted from About Regional by KATHRYN MAXWELL31 MAY 2021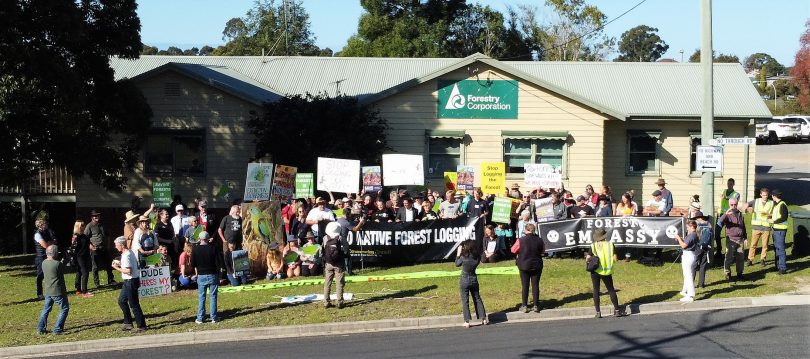 Protesters demand an end to native forest logging outside the Forestry Corporation of NSW office in Batemans Bay. Photo: Nature Conservation Council.
I'll be honest, I've worked in climate advocacy and conservation for three decades and it can be soul-destroying.
Whether hampered by the hotly debated issues of land management and development, or stalled by the chasm between conflicting political ideologies, it sometimes seems that calls for a cleaner, greener NSW South Coast fall on deaf ears.
But two major events held in Batemans Bay in May – with significant success – demonstrate that residents are rallying right now to futureproof our region.
Hundreds of South Coast folk have recently come together to develop climate and conservation solutions, and to call on our elected leaders to pick up the pace of transition to a clean economy. It's essential not only for us, but for our children and grandchildren.
In early May, 100 residents – from farmers and building designers to biologists – met to develop community-driven climate solutions at the Climate Solutions for Eurobodalla forum. On 22 May, the same number attended the NSW Regional Environment Conference.
As I marched with the conference crowd to the Forestry Corporation of NSW office in Batemans Bay, demanding an end to native forest logging, I felt a groundswell of local support for positive change.
The conference on 22 May, themed The Fires Changed Everything, was organised by the Nature Conservation Council (NCC) and co-hosted by the South-East Region Conservation Alliance (SERCA), the Southcoast Health and Sustainability Alliance (SHASA) and Coastwatchers. The program of prominent speakers were united in calls for urgent conservation and climate action.
Guests included NSW Shadow Minister for Environment and Heritage Kate Washington, NSW Greens Spokesperson for Environment and Climate Change MP Cate Faehrmann, Member for Gilmore Fiona Phillips, South Coast Independent MP Justin Field, and Bunja Smith, a Walbunja elder of the Yuin nation.
Speakers had common calls to action, including to protect marine parks from fishing, native forests from logging and unburnt forests from development; to integrate action on biodiversity and climate; and to employ regular cultural burning as a land management tool.
NCC CEO Chris Gambian told attendees the Black Summer bushfires were a wake-up call. Since the fires, the NCC has more than doubled its membership, from 60,000 to 150,000.
Chris spoke about the importance of the September 2021 local government elections, saying candidates should put their climate and conservation policies front and centre.
A working group that was formed following the Climate Solutions for Eurobodalla forum will approach candidates on exactly those issues and communicate policy positions to voters.
Justin Field renewed his push for the NSW Government to end native forest logging, calling for $80-$100 million to transition to 100 per cent plantation forestry. Jobs in the industry are limited, he said, with only about 1000 workers statewide and just 100 on the South Coast.
Logging of native forests was on the minds of many attendees at the NSW Regional Environment Conference. We marched to the Forestry Corporation of NSW office in Batemans Bay on behalf of the critically endangered swift parrot after recent revelations that the corporation may have breached its own post-bushfire logging rules in Mogo State Forest by felling an ironbark tree – a feed tree for the bird – with a trunk diameter of more than one metre.
The conference was solutions focused, with workshops discussing locally driven projects. Several groups are already moving in key areas of interest – we at SHASA are working with more than a dozen community organisations to provide zero-emissions infrastructure and to support electric vehicles.
SHASA's conference workshop, on electric transport and microgrids, generated many local project ideas, including solar panel covered car parks for council facilities; community microgrids in vulnerable shire locations; and electrifying public and school buses (as is happening in some Australian capital cities).
A proposal for the NSW Government to install electric vehicle recharge stations on the Kings Highway and Princes Highway also generated broad support from attendees.
May's events were driven by tireless community groups working for positive change. But what struck me most was the cross-section of community members taking part as individuals simply because they're concerned citizens. They're stepping up to lend their passion, skills and expertise for the good of our region.
It's energising, it's inspiring and it gives me hope.
Hope, I think, is not something we wish for, but something we do.
This month has shown me that NSW South Coast residents are rolling up their sleeves and, together, creating hope for a brighter future.
Kathryn Maxwell is president of the Southcoast Health and Sustainability Alliance (SHASA).