A 4kW Stand-alone Power System was recently installed for Keith Michael Nye of Mogo.
The system was donated and installed by Micro Energy Systems Australia [MESA] of Bodalla, who work in close partnership with local Community group SHASA.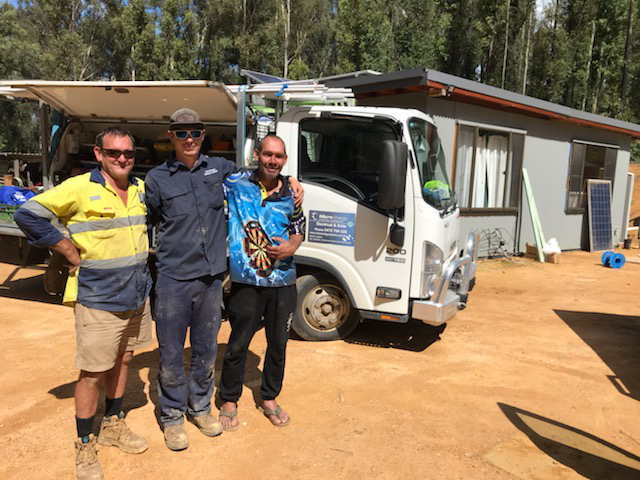 Keith is an Indigenous artist well known for his work in the region. Unfortunately, the assistance he had already received to provide a working energy supply solution was not sufficient and much of the equipment he had cobbled together was unworkable. Obtaining further support to purchase the appropriate equipment proved difficult.
Marea Stefek, Support Officer for the National Bushfire Recover Agency put MESA in touch with GIVIT in Canberra. As a result, the project received much needed funding for the shortfall in equipment MESA was not able to cover.
A year on from the Black Summer Bushfires, national online charity GIVIT is reflecting on coordinating more than 160,000 items to support NSW communities who are recovering.
GIVIT Regional NSW Manager, Caroline Odgers says the needs for communities are focused on rebuilding properties as well as items to best support the mental health of those affected.
"There's still a need for water tanks, generators and tools, but we're also seeing requests for items to support people's wellbeing such as beehives, seedlings, canoes, guitars and sewing machines. It's so important to make these communities feel they're supported and not forgotten," said Ms Odgers.
The GIVIT website removes the need for councils and charities to physically collect, sort and store donations, significantly reducing the administrative and financial burden, as well as saving valuable resources for critical recovery activities.
To donate and see what's needed, please visit GIVIT.org.au. GIVIT uses 100% of donations received to purchase essential items for people in need, and wherever possible from local businesses.